…. and how to make friends with 2 gifts!
Misaligned Information and Information Overload. Quite possibly the last things you'd want your potential customers to suffer through when you're presenting a pitch. You want to be part of their solution, not add to their problem. Here's how your Sales Reps magically become like the best librarians.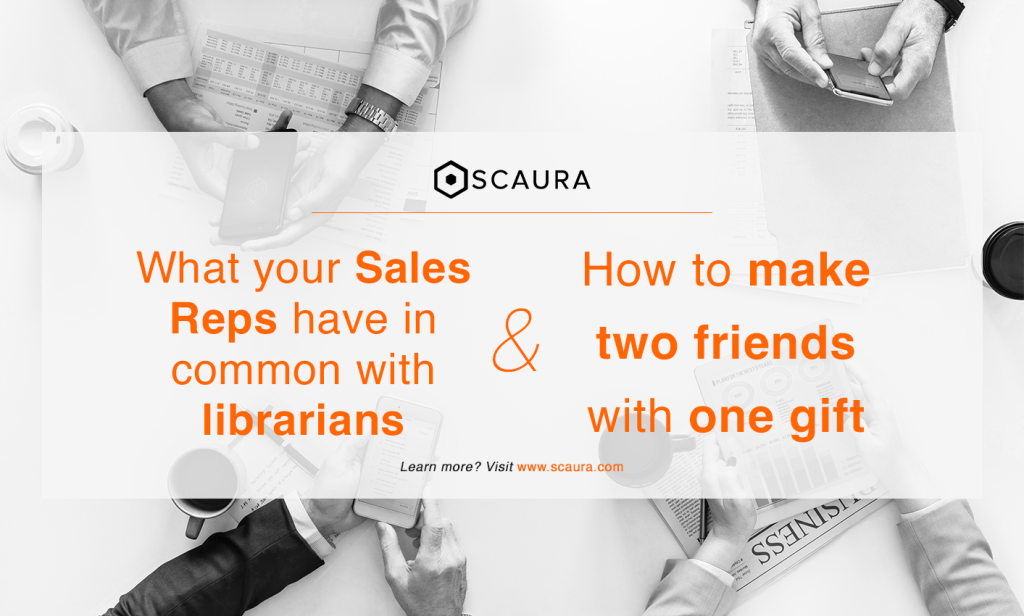 Librarians, search engines, truffle dogs. What do they have in common you might wonder? They know how to search and find the most relevant information.

Sure, Google, Bing, Safari and their counterparts bring up a whole bulk of information with every query. But the relevant stuff sits at the top. Imagine if search engines wouldn't function like that? Imagine you had to dig through endless pages to find what you're looking for. Think of all the time wasted, your frustration increasing with every click, to the point where it's in your best interest to walk away entirely.

Why is this relevant?

Well, it's because the majority of sales reps are sent out on the road with outdated, scattered, misaligned information. They are set up to fail.

How does that look on your brand? Very similar to the scenario described above. Don't be surprised when hot leads turn ice cold when their questions can't be answered because it's not in the spec sheet that was brought. Why should you be trusted with their business when your sales rep shows up disorganized?

Okay, so misaligned information is one problem. The other obstacle we often come across when talking to our clients is information overload. 

It's a cliché to say we live in an age of information. Whereas a 100 years ago people didn't have enough information, now we live in a time where we desire to 'tune out', 'shut off devices', and focus on what is essential because we are flooded with impulses everywhere we turn.

The same principle applies to your business. What if you could present your potential clients only the information that is essential to them. What would a buyer journey like that look like? If we can take a wild guess it's probably one with a lot more fun, a lot more fruitful, and would build better relationships.

Whether your prospects become a customer or not, you've delighted them in the process and strengthened your brand.
SCAURA brings you Strategic Storytelling

Talking to businesses about how they present relevant information is all that we do at Scaura. We are almost obsessed with how to present information in a better way. You can safely say: "Those people at Scaura, they really know how to distinguish the exceptional 'librarians' from the bad ones".

That title means a lot to us.  

And to let you in on a secret: decluttering misalignment and surfacing only that which is essential is not rocket science. Nor does it come with a secret formula.

In fact, we happily share our insights. Because it's our aim to equip your company with better librarian skills in order to have you achieve more fruitful results for your business. 

Scaura is a sales enablement software solution. Our platform lets you organize information in a simple drag-and-drop backend, and in the front of the 'showroom' you have a visually-stunning branded environment from where you can present pitches to your clients. All relevant information is easily accessible and sorted. It's always up to date to ensure your team gives your prospect exactly the details they need to make informed decisions.

You could say that, at Scaura, we help you build great customer relationships through Strategic Storytelling. Storytelling in a way where your teams know exactly what, where to find, and when to share which piece of information.

Building those great relationships happens through Confidence, Clarity, and Content. Three C's to help you close deals.


Confidence
"One important key to success is self-confidence. One important key to self-confidence is preparation." – Arthur Ashe

Tennis legend Arthur Ashe surely intended these words for performance on the court. Yet, meeting your prospects, looking them in the eye can feel similar to being at Wimbledon. More harmonious of course, since the aim is to create win-win situations. 

The point is that showing up with confidence is a large part of the game. It helps your potential customer to relax, knowing your sales team is certain about their case. Setting your sales team up with confidence is to have them be prepared.

With Scaura your team never has to wonder whether they have the right spec sheets. Your ops team ensures information is up to date in the Scaura platform, and your sales rep simply chooses which sheets to present. Should your prospect desire a different piece of information, then your sales rep easily accesses the requested information from an organized environment.


Clarity
Scaura empowers your sales team to come prepared, ánd have the agility to retrieve other desired information directly from the cloud. The way this is presented is not through some cluttered desktop background or having to scroll through messy folders.

Remember, we're talking about the work of exceptional librarians. Your prospects are shown presentations from a dynamic branded environment. Professional, visually appealing, and clear. Clarity leads to trust, trust leads to better relationships, better relationships lead to possibilities.


Content
Lastly, there is content. We believe, ultimately, successful business is built on great products or services. That is what matters first and foremost. Secondly is how you present those products and services. That is where Scaura stands out from the field. We empower our clients to bring out the best of their content. To present it in a stunning way.

Moreover, with Scaura you can send the link to your branded environment to your customer – either all of it, or selected pieces of information. From your Scaura dashboard you'll then be able to track and view metrics of how your content is consumed. Leading to better decision making during the buying journey.


Make two friends with one gift: SCAURA, your sales enablement software
Set your teams and your prospects up for a win. Scaura helps you make two friends with one gift. On the one hand, you help your teams move far away from misaligned information and give them confidence, clarity, and great content to work with.

On the other hand, you prevent your prospects from information overload. And instead, show them the right content at the right time, in a way that helps them solve their challenges.

Build better relationships with Scaura. Request a demo from our website and directly apply it to your brand.


If you'd like a more personal touch, contact Norbert Bessems (Founder at Scaura) through norbert.bessems@scaura.com. And let us assist you in delivering a sales experience that knows no equal.