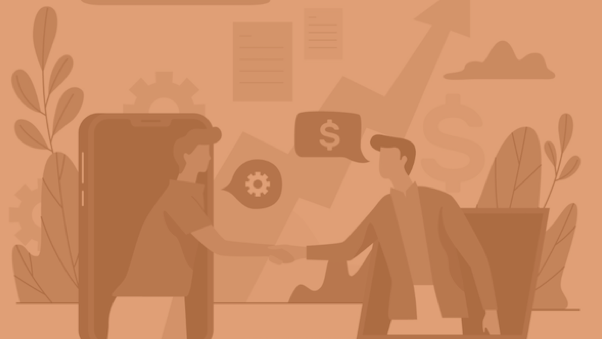 Is your sales content up to date, being used on a daily basis by your sales team? And just how easy is it for your representatives to access all of these gems? Grade A sales content considerably shortens the conversion time from initial pitch to a paying customer.
In order to effectively guide your teams and keep up with creating quality content over and over, you need a proper system for managing your content. In this blog, we will be looking at ways for content to support B2B sales as well as the most effective ways to store, organize and distribute the relevant sales content to your teams.
How can content support B2B sales?
What we are really looking at here, is how content marketing drives sales. Sales content is used by sales teams for better positioning and effectively engage prospects. Overall it means a massive boost in productivity and effectiveness.
Sales content management means that your teams have access to the right content at the right time. This means they can demonstrate the value of their proposition to any prospect, efficiently address concerns that arise during conversation and overall cut down the time used in the sales process.
Having the right sales content available to you at the right time also means that you get to share more relevant information with your prospect. More often, content is available during the initial stages of the sales process. During the most critical stage, where your representative is actually looking to close the deal, content is scarce.
Here is another thought: almost 70% of all buyers have increased the amount of content used to orientate on their next purchase. This means that besides having a chat with one of your representatives, they have also been watching videos, checking out infographics amongst other content.
Knowing which content works best also gives you a lot of insight into the needs of your prospects. This helps you to tailor your solution to these needs, once again cutting down time and increasing the odds of actually closing a deal.
How can you manage the sales content?
We now know how content management drives sales. So how can you effectively manage all of the available sales content?
The most obvious way is through a sales content management system. This is where you centralize your sales content and make it accessible to all involved. Effective sales content management means you can push the right content to your sales team, key is to do this exactly when and where they want it. Each stage of the sales process is different after all.
Having your sales content centralized makes for excellent sales enablement. It helps you identify the gaps and recommend the right content by looking at the context of any situation. Developing a buyer's journey map wherein each stage is clearly defined will definitely help. Questions or concerns raised by the prospect will be taken care of by your representatives, when they have the right content at their fingertips at all times.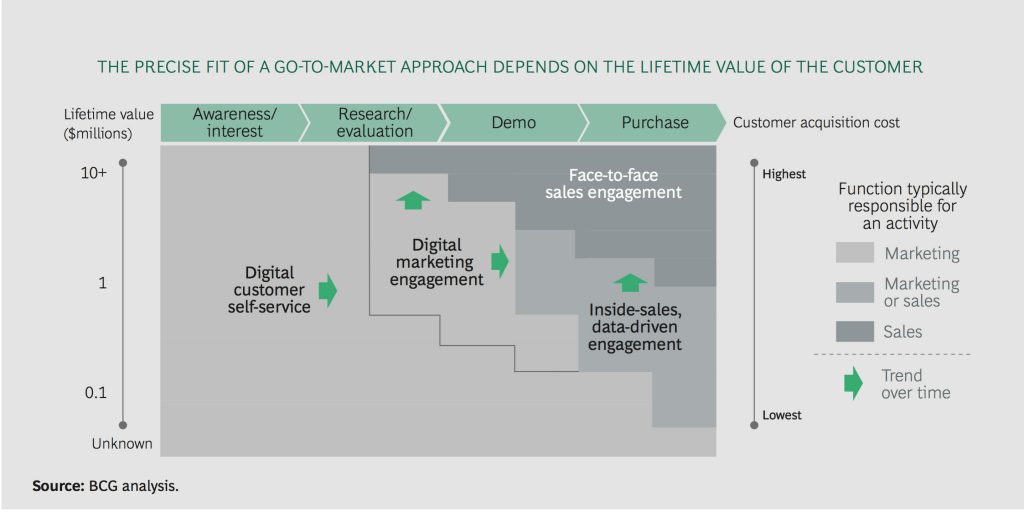 In the process of managing your sales content it is important to work closely with your sales team. Not only identifying the needs of your prospects, but also of your representatives boosts your sales enablement as both parties are catered to their needs. Audit your content from time to time, to make sure that everyone involved remains on the same page.
Knowing your sales cycle through and through is vital as well, as it helps you determine which content to push to your representatives at any point. Examine how your existing sales content relates to your sales cycle. If there is outdated content, replace it. If content needs a refresh, get the right people involved and get it up to date again. Connect with your sales team and see if there is room for improvement on existing content as well. Key is to stay on top of this ongoing process in order to maximize sales enablement.
When is sales content management important?
Each phase of the sales process requires a different approach as to which content is available to your sales team to use. Content is often plentiful in the first two stages of the sales process but becomes less and less in the latter stages. It is extremely important for your representatives to have the right content available in these closing stages as well, as they are actively looking to close the deal here. A very important reason to actively invest in sales content management, but there is more food for thought here.
To start off with, the productivity of your sales team can be stagnated if content is stored in multiple places. Sales content management enables you to store the content in one place, improving the overall effectiveness of your team.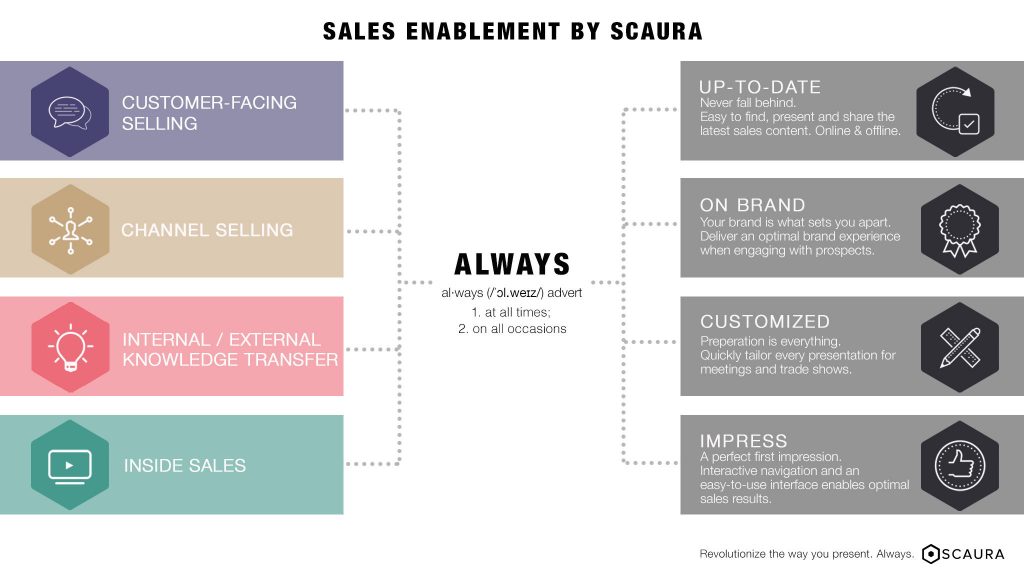 Sales enablement is another key factor, as it helps your people to win deals. It includes critical operations such as coaching and training your representatives, back-end operations and ensuring there is overall adherence to the processes. However, sales enablement is only possible when you have all of your content stored in one place, so your teams can access it at any place and at any time.
Naturally, the overall sales cycle becomes more efficient with lead times decreasing as your people need less time answering queries, taking away concerns or raise other valid points for the prospect to get on board with you. Linking deals in the same context and being able to access the content used within this context, is also a catalyst for structurally benefitting your sales cycles.
Last but not least, sales content management is extremely important to ensure your content converts and continues to do so. Discovering valuable insights about user engagement by actually looking at the statistics rather than relying on the gut instinct of your representatives.
How to structure your sales content management?
Knowing when sales content management is important is one thing. Being able to push forward the right content at the right time requires a proper structure for your sales content management.
First, link up with your sales team and see which content they are using on a regular basis. Determine if the content is still up to date and if the message correlates to the bigger picture. Starting off with examining and identifying which content you have at your disposal is a great way to optimize before adding it into your sales content management system.
Next, you want to map out your buyer's journey and assess your existing content along with it. Critical is to know if this existing content is enough, do you have the right content for each stage of the journey? Lots of content created is user-centric, it is important to realize that this process is not about you – make sure the content you have is buyer-centric. It is the fastest way to deliver value from the moment you enter talks.
As soon as you are done mapping out all of your available content, it is time to categorize. Starting with centralizing all of your content and organizing it in clearly defined categories. Think of categories such as product, niche, stage (of the sales process), customer persona, whatever works for you to effectively organize your content. Having a sales content management system greatly accelerates this process for you.
Organizing your content is important, but equally critical is to make sure the content is actually used. Most sales teams spend most of their time either answering emails or working in a CRM system. This means your best chance of your team utilizing content is to integrate it into their workflow. By integrating your sales content management system with your CRM, you will not only improve the workflow but also increase overall effectiveness of the sales process as a whole. You do not want your team to lose valuable time abandoning what they are working on just to find matching content, right? 
How can you measure the ROI of sales content?
By now you are at a stage where you have plenty of sales content, mapped out in your sales content management system. Not only that, you have trained your teams how to make the best of using this system and accessing the content where they want, when they want and how they want to. But creating content is an investment, and as with any investment it is vital that you can assess what the return on this investment is.
We call this sales content ROI; simply put you measure the results of your sales content activities against your expenses. As with any investment you are making, measuring results is key to sustainable success in sales content management.
A good sales content management system will provide you with usage reports. These reports boast a wide range of metrics and trends for views, opens, shares, downloads etc. and how these metrics and trends correlate to any specific sales stage, opportunity and new customer wins.
Knowing if your target audience is engaging with your content, if they are sharing it and which type of content has their preference will tell you exactly which content performs to your standards. The insights given will help you map out your future course for content creation.
By now, you are fully aware of just how content supports B2B sales and why a proper sales content management system is vital to your results. Of course, there are many more avenues to explore for you and your team. We would love to be part of this journey, so if you have any questions or if you would like to see our sales content management system in action – be sure to let us know or watch our video demo.