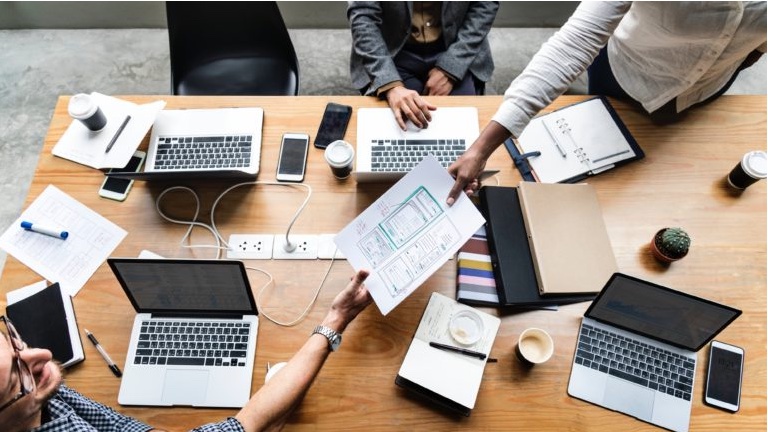 In the previous blog, we have talked about the biggest sales enablement trends in 2021. Given today's economic climate, it is more important than ever to enable your marketing and sales teams to get the most out of their commercial activities. But what about your partner enablement strategy? You've guessed it, we are talking about your resellers and channel partners. Today we want to look further into channel enablement.
Channel enablement means that you are both utilizing, as well as making your resources available to your channel partners, to make sure that they have all the tools and processes they need to be successful. Of course, you also want to track activities and use that data to improve overall performance.
Summarized, the best way to go about channel enablement is to take a closer look at the problems that may occur and how these are resolved. In this blog, we will have a look at some of the most occurring problems and how a proper partner enablement strategy will bring you more success.  
Making your resources accessible everywhere – and memorable
Back in the "good old days", training and enabling your resellers and channel partners was done through face-to-face training sessions. They would get complete manuals and sessions could last all day. They end goal of being successful commercially has not changed, the way in which trainings are conducted definitely has.
It is well documented that today's audience prefers watching videos to obtain information. Videos are more engaging than following a PowerPoint presentation, of course with the added benefit that the material can be watched at one's own convenience. As training materials are more and more made for watching on the go, chunking trainings into bit-size pieces is quickly becoming the new norm.
Another way of making learning more engaging is through gamification. Gamification means presenting the user with a way to learn as if it were a game. You can even go as far as making them earn rewards or badges by reaching certain milestones. Who said learning can't be fun?!
Of course, you want to make all of this happen, wherever you are. The next level in presenting training resources is through a multi-platform sales enablement tool. Here users can choose to watch on whatever devices they prefer, so channel partners can make progress at their own convenience. This makes channel enablement a win-win situation for everyone involved.
Make your enablement resources easy to find – and use
Channel enablement, means offering your channel partners and resellers a portal to gain access to all information, documentation and training material. And for good reason. All collateral accessible from one place is an obvious plus for anyone, but this can come at a cost. Having everything in one place can present to problem of overwhelm. Not to mention it can be a challenge for your marketing team to keep the content up-to-date.
Guiding your channel partners in the same way as your own people goes a long way. Then again, they are still not part of your organization and therefore it is a good idea to remain proactive in obtaining their feedback. Investing in your resellers has to pay off, so it is a wise idea to keep track of their activities and to learn from their experience.
The solution is not limited to having all your material in one place. Extensive effort has to be put into making content easy to find. Intuitive control is the way to go in 2021. With buttons and hotspots, you can easily navigate the content you need, regardless of the sheer size of data stored.
Create enablement resources to help your channel partners sell more
A successful partner enablement strategy, means you are enabling your channel partners and resellers to be successful, supporting them properly along the way. Easy navigation is one thing, answering questions in a fast and efficient way helps a lot, too. The one that is able to sell your product or service in the simplest way usually gets the sale. This sounds obvious, but staggeringly it has been overlooked on more than one occasion.
So, what is deemed effective when it comes to enablement resources? Just to name a few: 
Customer references. As a salesperson, you can talk about your product all day, but few things are more effective than a meeting with, or a review from an existing customer.
In the same context there are use cases. These highlight the pain points and how these are resolved as well as butting in with additional benefits.
Probably the biggest hack is tweaking your material for different audiences. You would present your solution in one way when talking to a small business owner; and in a completely different way when speaking with a big company. Your resources have to be structured in the same way, so you can switch effortlessly regardless of who is in front of you.
Creating and structuring enablement resources works the same for both people inside your organization, as well as channel partners and resellers. Easily navigate, prepare, present and follow up regardless who you are talking to.
Recent surveys have shown that most companies are pretty confident in gathering their content in a central spot. At the same time, however, they struggle to find out whether content is actually being used.
Regardless how effective and extensive your library is, when it isn't used properly you are wasting resources. Tracking activities and measuring results, using tools like Analytics, is vital for channel enablement. Which resellers are using content and how successful are they? Which content is shown to be landing the sale regularly, but hasn't been picked up by most of your resellers yet? All of these statistics are important when you are looking for improvement. Use them to your advantage.
Whether you just have a couple of resellers, or a vast network of channel partners, channel enablement is vital for them – and you – to be successful. At SCAURA, we have already identified the needs coming forth of the problems listed in this blog. Want to know how to take channel enablement to the next level? Schedule a free demo with us and we will gladly show you how to grow your business exponentially.