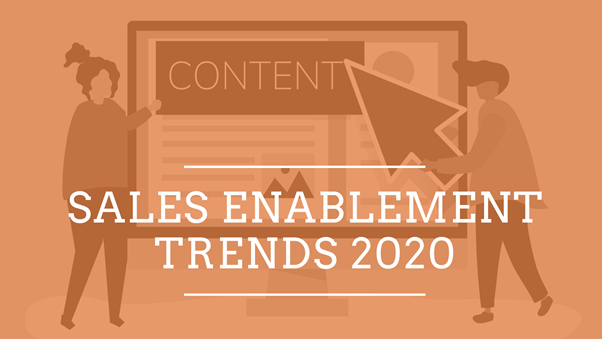 Sales Enablement, the process in which you provide your Sales team with solutions to sell more effectively, has come a long way. Back in 2013 less than a quarter of organizations were reported implementing these processes. Looking back on 2019, this was already more than two third. With ever-improving technology enabling us to optimize these processes even further, it's important to keep an eye out for what works best.
 Let's have a closer look at the biggest Sales Enablement trends in 2020.
#1 Forget PowerPoint – enable visual and non-linear storytelling
Sales Enablement has given Sales teams the opportunity to go from traditional interaction methods to navigating meetings more flexible. One-dimensional slides, like PowerPoint, are no longer accepted by buyers who are increasingly well informed.
With visual and non-linear storytelling, Sales teams let the content follow the conversation instead of having buyers look at slides they are not interested in. We have listed a couple of tactics which can be used in the set-up of your Sales Enablement Application to allow flexible navigation during any meeting:
Use visual hotspot pages rather than classic button-based menu pages. A hotspot page increases the understanding of the proposition or product your team is selling. Buyers are invited to ask for more information on different topics.

Set up different Content Channels to keep the content focused, yet accessible. Rather than putting all your multi-brand, multi-market content in one application, put them in separate Content Channels so that the Sales team can utilize the Channel which fits the specific meeting best. Of course, the option to seamlessly switch to a different Channel should the need arise is always there.
Provide an elaborated search function which can be used as a short cut to locate specific content when needed.

Sales Enablement allows your Sales team to address selling challenges through the lens of the buyer, instead of the other way around. Flexibility is key in 2020.
#2 Focus on Visual Content
True, this is not only applicable for Sales Enablement but for multiple processes ranging from closing an actual deal to general presentations. In 2020, information overload is still very relevant, even though nobody wants it. Visual presentations are way more effective in terms of captivating a buyer's attention and move then to a place where they want to close a deal as much as you want.
Collectively, we are well on our way to redirect the focus to the visual aspect. As B2B companies invest an ever-increasing chunk of their budget into high-quality audiovisual content to support their sales, it's imperative this content is added to your Sales Enablement Application.
#3 Keep your user base engaged
Sales Enablement Applications allow for a more dynamic conversation with any prospect buyer. Yet, many Marketeers and Salespeople treat these applications as the end-product where in fact it is only the start. Rather than telling your team the content is ready to use inside the application, keep them engaged by using these tactics:
Regularly update the Application with new content and notify your user base whenever new content has been added. Forget email, being as dynamic as you are set up a Whatsapp group and get the user base in on the action!

Regularly update the Application with new content and notify your user base whenever new content has been added. Forget email, being as dynamic as you are set up a Whatsapp group and get the user base in on the action!
#4 Integrate your Sales Enablement solution with CRM software
Sales Enablement solutions are often treated as standalone pieces of software that do not work together with the companies' other systems. You want your Salespeople to actually use the application. And what better way is there than to integrate it with your CRM software, such as SalesForce or Microsoft Dynamics?
By integrating the Sales Enablement solution with your CRM software, you will almost surely increase the adaption of both. Not to mention the valuable insights that are others can extract from the CRM system when content used during meetings is uploaded there.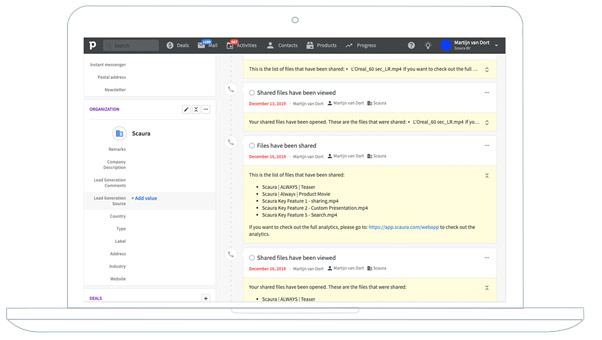 #5 Don't forget your resellers!
Of course, you will use your Sales Enablement solutions for your own Sales team. But what about your reseller-network? We find that quite often this important sales channel is left out. With the resellers being an actual part of your Sales Enablement solution, you will gain valuable insights from their experiences. Plus, you will motivate and activate them to drive sales for your products and services.
#6 Analytics, learning and improving
One of the underpinning principles of Sales Enablement is analytics, learning and improving. You got us, this is not exactly 'new' in 2020 but we feel it is too important to leave out – and quite often underestimated. Having true understanding in the way your content is being used by your Sales team is invaluable. Use the opportunities given and never stop learning and improving.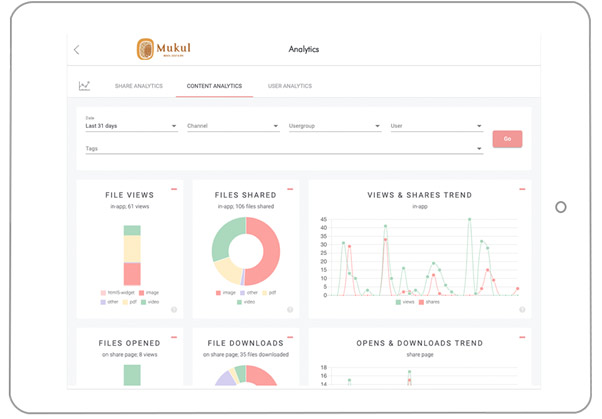 Alright, we have now told you what the biggest Sales Enablement trends in 2020 will be. Perhaps there are still some gaps in our story which we will gladly clear up for you.
As we work with many different companies from all sizes, industries and geographies, we have gained a lot of experience on sales content and sales enablement and how to bring them succesfully together. So feel free to reach out to us so we can assess you requirements and provide you with tips & tricks.
We like to keep things simple and practical, just like the application we provide.  Request your online demo with us and start improving your customer buying experience today!